Personal Information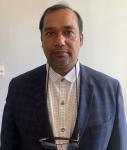 M.Sc. (Biochemistry; Calcutta University), Ph.D. (Biotechnology; IIT-Kharagpur), Postdoctoral Training (University of Texas Health Science Center at San Antonio, Texas, USA), CPRIT Fellowship (USA-Govt.); ASBMR Young Investigator Award
91
Brief overview:
Prof. Chandi C. Mandal's research aims at understanding molecular mechanisms of dysregulated gene expressions and cellular signaling networks associated with debilitating cancer diseases, by carrying out cell-based experiments, cancer tissue and database analysis. Exploring the impact of various metabolic disorders including diabetes, obesity and hypercholesterolemia, and extrinsic risk factor (cold temperature) on the peculiar trans-differentiation property of epithelial breast cancer cells into osteoblast- and adipocyte-like cells is a major focus. Non-toxic drug candidates are preferred to cease dysregulated signaling pathways via hindering the gene targets. Research of this laboratory also seeks to examine if cholesterol-lowering statins, omega-3 fatty acids and anti-diabetic metformin can be combined with other anti-cancer drugs to show better.
Dr. Mandal's academic endeavour is not only reflected in the publications of his research work, but he is also recipient of Investigator Award from ASBMR, USA and fellowship Award from CPRIT, USA.  His research work has also been highlighted multiple times in Newspaper and reported in Television channels. He is a member of several professional societies such as IACR, BRSI, ISCA.  
He is editorial board member of various journals such as associate editor of "Frontiers in Endocrinology-bone section" and "BMC Cancer", and academic editor of "PLOS ONE", and editorial member of "Scientific Reports [npg]" , "Journal of Biochemical and Molecular Toxicology", "Oncology Letters" and "Current Drug Targets". He has enlisted in the  TOP 2% scientists in the world made by Stanford University in 2021, published in Plos Biology.
Area of Interest: Cellular Signaling associated with Cancer and Bone Biology.
Research Keywords: Cell biology, Cancer, Bone metastasis, Bone remodelling, Cancer calcification, Osteoblast, Osteoclast, Apoptosis, Epithelial to mesenchymal transition and Cellular signalling.
Topic edited:            (i) Cancer and bone metastasis [Edited] in "Frontiers in Endocrinology" Link: https://bit.ly/cancer-bonemetastasis-chandi
                                 (ii) Cancer and bone metastasis II [Edited] in Frontiers in Endocrinology"  Link: https://bit.ly/bonemetastasisii
                                 (iii) Bone cell differentiation in health and disease [Edited] in Frontiers in Endocrinology  Link: https://bit.ly/osteoblast-health
                                (iv) Lipids and cancer in "Current Drug Targets" [Editing] Link: https://bit.ly/lipid-cancer-chandi
Opportunity for PhD, Postdoc and project fellow: Interested candidates may send CV to ccmandal@curaj.ac.in
News on COVID-19:  
https://bit.ly/newschandiCOVID-19
https://bit.ly/Newschandicovid19-video
https://bit.ly/newschandicovid-19
Others:
Website: https://chandicmandal.webs.com
Publications: https://bit.ly/GscholarChandicmandal
Pubmed: https://bit.ly/PubMed-CCM
  Year                         Position                                            Institution/University
2019-Present                                 Professor                                  Department of Biochemistry, Central University of Rajasthan, India
2016-2019                  Associate Professor & Head                        Department of Biochemistry, Central University of Rajasthan, India
2013-2016                      Assistant Professor                                   Department of Biochemistry, Central University of Rajasthan, India
2012-2013                      Assistant Professor                                   Department of Biotechnology, Sharda University (U.P.), India
2006-2012                      Postdoctoral Fellow                                   Department of Pathology, University of Texas Health Science                                                                                                                                                                       Center at San Antonio, USA
2000-2006                      Rsearch Scholar                                        Indian Institute of Technology, Kharagpur, India
Research Interest:
Dr. Mandal's research interest is aimed at understanding the cellular signal transduction mechanisms involved in breast cancer, bone metastasis and calcification using molecular and cellular biology techniques and animal model systems. Cancer incidence risk is enormously high in all over the world but deaths related to cancer are rapidly increasing in developing countries like India. Advanced techniques are skilled to detect cancers in early stages. Moreover, modern treatment strategies are now quite efficient to extend the life span of cancer patients by taking care of primary tumors. It is the fact that almost 80% of cancer patients die mainly due to its metastatic growth in distant organs. The occurrence of metastasis incidence is also increasing due to improve results of primary tumor treatment strategy. Very limited drugs are available in prevention of metastasis-related death although success level is very small. Thus it becomes a deadly threat to cancer patients once primary tumor cells have metastasized to distant sites. Risk of cancer incidence has been linked with different diseases including diabetes, hypercholesterolemia and obesity. Moreover, treatment of cancer patients with chemotherapies, radiation therapies often show  deleterious side effects. Therefore, there is an urgent need for improved understanding of the molecular biology of these diseases and development of more selective and targeted pharmacologic therapeutics.
Dr. Mandal  focuses his research area on i) finding the molecular mechanism involved in diabetes-associated cancer risk ii) prevention of chemotherapeutic drug-induced systemic toxicity, iii) finding the molecular pathways involved in diabetes-driven  calcification.
Dr. Mandal's newly developed interests on bone metastasis of breast cancer and signalling crosstalk of osteoblast and osteoclast during bone remodeling have been very significant insight into molecular mechanism of these diseases. 
Current objectives:
 Finding the underlying molecular mechanism for cholesterol-induced cancer growth and  metastasis
 Investigating the molecular mechanism involved in cancer microcalcification and its prevention strategy
 Investigating the target identification for cold-mediated tumorigenesis
 Study for preventing mutation in mutation prone zones in cancer genome
Identification of bioactive secondary metabolites for prevention of cancer metastasis
Link:       https://www.dailymotion.com/video/x7vgdvn
Link:     https://www.youtube.com/watch?v=LYKXPIYoX0g
Link:     https://www.youtube.com/watch?v=IZPYhHMbbU4
Link:     https://www.firstpost.com/health/covid-19-spread-may-hasten-during-winter-suggest-indian-scientists-as-study-shows-high-caseload-in-colder-regions-8574931.html
Link:    https://scholar.google.co.in/citations?user=p6uxNRcAAAAJ&hl=en
Lab Members:
Sneha Soni:                                   Ph.D. Pursuing                  Research Area: Adipocyte and Cancer
Pooja:                                             Ph.D. Pursuing                  Research Area: Epigenetics and Cancer
Manas Mahapatra:                                 Ph.D. Pursuing                   Rsearch area: Zinc finger proteins and Cancer
Sweta Makwana:                                   Ph.D. Pursuing                    Research area: Diabetes and Metastasis
Shivani Bansal:                                    Ph.D. Pursuing                    Research area: Osteoblast-like potential and Cancer
Monika Kumari :                                   Ph.D. Pusuing                      Rsearch area: Zinc finger protein and cancer
Former members:
Dr. Shreetama Bandyopadhayaya:   Post Doctoral Fellow, USA
Dr. Tanu Sharma:                                 Post Doctoral Fellow, USA
Suresh Kumar:                               Patent Officer (New Delhi)                                    
Kaushik Chowdhury:                        Ph.D. students (Academia Sinica, Taiwan)     
Dr. Ankit Sharma:                             Association with LabRx  Immunologic Therapeutics  Pvt Ltd., California, USA
| S. No. | Authors | Title of Article | Journal/Conference Details | Journal/Conference | Publication Year |
| --- | --- | --- | --- | --- | --- |
| 1 | | | | | 2020 |
 ​Research Project:
Deciphering the influence of adipocyte-like cell subpopulation transdifferentiated from breast cancer cells in tumorigenic activity and its therapeutic potential (ICMR) [Ref. 2021/9936]  [PI]

Conjugated approach for more effective Cu and Ru Metal Based Molecular Agents with Enhanced Anti-Cancer Potential and Reduced Side-Effects (DST-SERB) [Ref. SERB/F/7709/2022-2023] [Co-PI]

Exploring the impact of an osteoblast-like cell subpopulation differentiated from breast cancer cells on tumorigenic activity and its possible therapeutic potential (DST-SERB)  [Ref. CRG/2021/002963][PI]
Exploring the role of  secretary arm of autophasy in glioblastoma therapy resistance in invitro and patient data based study (ICMR) [Ref. 52/27/2020-BIO/BMS] [Co-PI]
Interplay of metabolic and signal pathways of N-acyl dopamines and cholesterol in cancer cells (DST-RFBR) [Ref. INT/RUS/RFBR/P-256](Indo-Russia) [PI]
Cholesterol-lowering drug targets osteoclastogenic factors to prevent osteolytic bone metastasis of breast cancer (DBT) [Ref. 6242-P9/RGCB/PMD/DBT/CCML/2015] [PI]
Rationally designed Indolizine derivative(s) as multitarget anticancer agent for inhibition of cancer cell growth and metastasis (DST-SERB) [Ref. EMR/2014/000928] [Co-PI]
Influence of diabetes on bone metastasis of breast cancers (UGC-BSR Start-up grant) [PI]
Attended
Presentations in Conferences/ Symposiums:
Mandal CC, An unexplored zinc finger protein bridges the relationship between cold temperature and cholesterol in breast cancer" on 30th January 2023, Snippets of Life Sciences Research in India: Honoring Prof. Debi P. Sarkar, Department of Biochemistry, University of Delhi-South Campus [Invited Speaker]
Mandal CC, Tumorigenic potentiality of an unfamiliar cold-induced zinc finger protein in cancer and its prevention strategy, 16th international cancer symposium of translational chemoprevention and brain storming, Nov 18-19, 2022, JNU, New Delhi, India [Invited Speaker]
Mandal CC, A new drug targets dysregulated cholesterol metabolism for prevention of cancer growth and metastasis, 5th International Conference on Nutraceuticals and Chronic Diseases (INCD2022 from October 7-9, 2022 University of Delhi, India.[Invited Speaker]
Mandal CC, Omega-3 Fatty Acid Inhibited Microcalcification by Targeting Osteoblast Potential of Breast Cancer Cells 13th International Symposium on "Cancer Prevention and Treatment", 2020, JNU, New Delhi (Invited Speaker)
Mandal CC, Targeting osteoblast-like potential in cancer cells, 8th International Translational Cancer Research Conference, 2020, BHU, Varanasi, India (Invited Speaker)
Mandal CC, Anti-diabetic metformin suppressed BMP-2 induced osteoblast-like potential in lung cancer cells, National Symposium on Basic & Translational Research in Cancer Biology 2019, Institute of Advanced Research, Gujarat (Invited speaker)
Mandal CC, Cholesterol Lowering Simvastatin Targets NFATc1-DKK1-CSF1 Axis toInhibit Breast Cancer Induced Osteoclast Activity in the international symposium on Tumor Microenvironment and Cancer Prevention & Therapeutics 2019, JNU, New Delhi, India (Invited Speaker)
  Mandal CC, Targeting cellular cholesterol prevents cancer, International Conference on International Conference on LSRIEAS-2018, BITS-Pilani, India (Invited speaker)
  Mandal CC, An Intriguing link between cholesterol and tumorigenesis, Institute of Bioorganic Chemistry, Russia, Moscow (Invited Lecture)--2018
  Mandal CC, Omega-3 Fatty Acid Disrupts BMP Signaling to Prevent Micro calcification in  Breast Cancer, 7th International Conference on Translational Cancer Research, ICTCR 2018, Chennai, Inida (Invited speaker)
  Mandal CC, Cold temperature: a not-estimated cancer risk factor, NSCPTS 2017 (Plenary speaker) 
  Mandal CC Influence of cold temperature and cellular cholesterol on breast cancer growth and metastasis, RGCON 2017, New Delhi, India (Invited Faculty) 
  Mandal CC, Cholesterol Depleting Methyl-β-cyclodexytrin Prevents Epithelial to Mesenchymal Transition and Breast Cancer Driven Osteoclast Activity (2017), 3rd international conference on Perspective of Cell Signaling and Molecular Medicine, Bose Institute, Kolkata, India. (Invited Speaker) 
  Mandal CC* (2016) Influence of Cellular Cholesterol on Breast Cancer Induced Bone Metastasis,  ICSCC-2016, Ravindra Bhavan, Margao, Goa, India.  (Invited Speaker) 
  Mandal CC*, Sharma A, Panwar M (2016), Is there a tie between risk factors cold environment and cholesterol in cancer? International Conference Indian Association for Cancer research (IACR), New Delhi, India (Invited Speaker) 
  Mandal CC*, Sharma A, Ghosh-Choudhury (2016), An intriguing link between cholesterol and cancer, International Conference BCGGR, BITS-PILANI, India (Keynote Speaker) 
  Mandal CC*, Sharma T, Sharma A, Ghosh-Choudhury N (2016), Fish Oil and Cholesterollowering Drug Prevent Breast Cancer Growth and Metastasis, International Symposium on Role of herbals in Cancer prevention and treatment, Jawaharlal Nehru University, New Delhi, India (Oral Presentation) 
  Mandal CC* (2015), Cold Environmental Temperature May Enhance Cancer Risk by Augmenting Cholesterol, Global Cancer Summit 2015, Bangalore, India. (Invited speaker). 
  Mandal CC* (2015) Combinatorial Treatment with Cholesterol-lowering Drug and Omega3 fatty Acid Prevents Breast Cancer Growth, Current Challenges in Drug Discovery Research, MNIT, Jaipur, India. (Invited speaker). 
  Mandal CC* (2014), A Cholesterol Lowering Drug Prevents Osteolytic Bone Metastasis by Targeting Osteoclastogenic Factors in Bone Microenvironment, 9th International Conference on Anticancer Research, Sithonia, Greece [Invited Speaker]. 
  Mandal CC* (2014), Omega-3 fatty acids prevent breast cancer bone metastasis and side effects of chemotherapies, Global Cancer Conference, Hyderabad, India [Plenary Speaker] 
  Mandal CC*, Ghosh-Choudhury G and Ghosh-Choudhury N (2013) Simvastatin inhibits Osteoclastogenic Factors to block Osteolytic Bone Metastasis of Breast Cancer, 4th International Conference on Stem Cells and Cancer, Bombay, India [Oral presentation] 
  Sharma T, Parihar N , Nath S, Singh A, Kaur S, Singh S, and Mandal CC* (2013) A Nontoxic Approach to Prevent Secondary Effects of Chemotherapies, Bioquest 2013, Elsevier, Kerala, India. [Oral Presentation] 
  Mandal CC*, Ghosh-Choudhury G and Ghosh-Choudhury N (2012). Cholesterol-lowering  Drug Targets Osteoclastogenic Factors to Prevent Osteolytic Bone Metastasis of Breast Cancer,3rd   International Cancer Research Symposium, Journal of Cell Communication and Signaling, Kolkata, India. [Invited Speaker] 
  Mandal CC, Tamegnon A, Ghosh-Choudhury T, Ghosh-Choudhury G and GhoshChoudhury N (2012). Omega 3 Fatty Acids in Fish Oil Orchestrate a Reciprocal Axis between p53-miR200c and Zeb1 to Prevent EMT in Breast Cancer Cells, 34th Annual Meeting of the American Society for Bone and Mineral Research, JBMR, Minneapolis, Minnosota, USA. 
  Mandal CC, Ghosh-Choudhury T, Ghosh-Choudhury G and Ghosh-Choudhury N (2011). Fish oil targets miR-21 to increase PTEN expression for inhibition of bone metastatic CSF-1 in breast cancer cells, Program # P2-01-11, 34th Annual San Antonio Breast Cancer Symposium, San Antonio, Texas, USA.  [Broadcast in KENS5 San Antonio, KVUE Austin, and CBS  National TV Channel] 
  Mandal CC, Ghosh-Choudhury G, Ghosh-Choudhury T and Ghosh-Choudhury N (2011). Omega3 fatty acids orchestrate an antagonistic interplay of microRNA expression to prevent epithelial to mesenchymal transdifferentiation of breast cancer cells, Abs# 31, 4th Annual Symposium of Cancer Therapy & Research Center (CTRC), San Antonio, Texas, USA. 
  Mandal CC, Ghosh-Choudhury T, Ghosh-Choudhury G and Ghosh-Choudhury N (2011). A Non-invasive Way to Target microRNA-21 and to Prevent Osteometastatic CSF-1 Expression by the Human Breast Cancer Cells via PTEN, Abs# 113, 33rd Annual Meeting of the American Society for Bone and Mineral Research, JBMR, San Diego , USA. 
  Dey N, Ghosh-Choudhury N, Das F, Mariappan MM, Mandal CC, Kasinath BS  and Ghosh Choudhury G (2010). Micro RNA-21(miR-21) targets PTEN to regulate mesangial cell hypertrophy and fibronectin expression by high glucose, Abs# TH-FC141, 43rd Annual meeting and Scientific Exposition, American Society of Nephrology, Denver, USA. 
  Das F, Ghosh-Choudhury N, Mandal CC, Dey N, Kasinath BS and Ghosh Choudhury G (2010). A feedback loop in high glucose-induced inactivation of FoxO1 regulates Akt activation, mesangial cell hypertrophy and fibronectin expression via downregulation of catalase, Abs# F-PO1113, 43rd Annual meeting and Scientific Exposition, American Society of Nephrology, Denver, USA. 
  Mandal CC, Ghosh-Choudhury N, Yoneda T, Ghosh-Choudhury G and Ghosh-Choudhury N (2010). Simvastatin prevents breast cancer skeletal metastasis by increasing p53 levels to increase PTEN and inhibit CD44 expression, Program # P2-07-01, 33rd Annual San Antonio Breast Cancer Symposium, San Antonio, Texas, USA. [University of Texas Health Science Center News (24th Nov, 2010) and San Antonio Express News (2nd Dec, 2010)] 
  Mandal CC, Ghosh-Choudhury N, Yoneda T Ghosh-Choudhury G and Ghosh-Choudhury N (2010). Unveiling dual functions of p53 in preventing breast cancer bone metastasis by targeting CD44 and PTEN, Abs# 1230, 32nd Annual Meeting of the American Society for Bone and Mineral Research, JBMR, Toronto, Canada.  [Young Investigator Travel Grant Recipient and Oral Presentation] 
  Borgfeld N, Mandal CC and Ghosh-Choudhury N (2010). The reduction of colony  stimulating factor-1 (CSF-1) expression in MDA-MB-231 by Omega-3 fatty acids, Cancer Research Summer Program, UTHSCSA, San Antonio, Texas, USA. 
  Mandal CC, Ghosh-Choudhury G, Yoneda T and Ghosh-Choudhury N (2009). Omega-3 fatty acids (OFAs) intercept miR-21 and miR-214 targeting PTEN to prevent breast cancer bone metastasis, Abs# SU0113, 31st Annual Meeting of the American Society for Bone and Mineral Research, JBMR, Denver, USA. [Medical Tribune, Congress News Wave, Japan]  
  Mandal CC, Ganapathy S, Ghosh-Choudhury G and Ghosh-Choudhury N (2009). BMP-2- stimulated NOX4-PI3 kinase-Akt signaling axis induces osteoblast (OB) differentiation, Abs# MO0184, 31st Annual Meeting of the American Society for Bone and Mineral Research, JBMR, Denver, USA. 
  Mandal CC, Ghosh-Choudhury G and Ghosh-Choudhury N (2008). BMP-2 stimulates a feedback activation loop for expression of NFATc1 in osteoblast, Abs# SA02, 30th Annual Meeting of the American Society for Bone and Mineral Research, JBMR, Montreal, Canada. [Plenary Poster]  
  Mandal CC, Ghosh-Choudhury G, Ganapathy S, Harris SE and Ghosh- Choudhury N (2008). A BMP-2 stimulated signaling niche in osteoblast comprising Smad and PI3K kinase /Akt regulates NFATc1 expression and its nuclear translocation, Abs# 1081, 30th Annual Meeting of the American Society for Bone and Mineral Research, JBMR, Montreal, Canada. [Young Investigator Award and Oral Presentation]  
  Mandal CC and Ghosh-Choudhury N (2008). Simvastatin induces Wnt signaling and reduces CSF-1 secretion and RANKL/OPG ratio to block osteoclast differentiation, Abs# SU096, 30th Annual Meeting of the American Society for Bone and Mineral Research, JBMR, Montreal, Canada. 
  Mandal CC, Ghosh-Choudhury G, Drissi H and Ghosh-Choudhury N (2007). BMP2Inducible Osterix regulates Bone remodeling by Increasing Osteoblastic CSF-1 and RANKL/ OPG ratio To Induce Osteoclast maturation, Abs# M100, 29th Annual Meeting of the American Society for Bone and Mineral Research, JBMR, Honolulu, Hawaii, USA. 
  Mandal CC, Ghosh-Choudhury G, Drissi H and Ghosh-Choudhury N (2007).   Osteoblastic Master regulator Osterix Mediates the feedback regulation of BMP-2 Auto- Expression via  PI3 kinase/ AKt signaling, Abs# T029, 29th Annual Meeting of the American Society for Bone and Mineral Research, JBMR, Honolulu, Hawaii, USA.  [Travel Award] 
  Bhattacharyya J, Mukherjee R, Banga A, Dandapat A, Mandal CC and Sen SK    (2006). Transgenic approach for development of insect resistant rice plant types. Abs# 5421, 2nd International Rice Congress, New Delhi, India. 
  Mandal CC, Singha PK, Pandeswara SL, Ghosh-Choudhury G and Ghosh Choudhury N (2006). Phosphatidlyinositol (PI) 3 kinase/ Akt Signaling Represents a Potential Mechanism for BMP-2- induced Expression of Colony Stimulating Factor-1(CSF-1) which mediates Osteoclast Differentiation. Abs# F183, 28th   Annual Meeting of the American Society for Bone and Mineral Research, JBMR, Philadelphia, USA.  [Plenary Poster]  
  Singha PK, Mandal CC, Pandeswara SL, Ghosh-Choudhury G and Ghosh-Choudhury N (2006). Phosphatidlyinositol (PI) 3 kinase/ Akt Signal Trafficking    Activates NADP(H) oxidase (NOX) and NFkB in Response to Hydrogen Peroxide (H2O2), which Regulates Osteoblast Differentiation. Abs# SA224, 28th Annual Meeting of the American Society for Bone and Mineral Research, JBMR, Philadelphia, USA. 
  Maiti MK, Nayak P, Basu A, Dandapat A, Mandal CC, Ghosh D, Basu D, Das S and Sen SK (2001). Performance of Bt IR64 rice plants resistant against yellow stem borer in their advance generations, Asian Agriculture Congress, Manila, Philippines. 
  Mandal CC, Ghosh-Choudhury G, Ghosh-Choudhury T and Ghosh-Choudhury N, Omega3 fatty acids orchestrate an antagonistic interplay of microRNA expression to prevent epithelial to mesenchymal transdifferentiation of breast cancer cells (2nd November, 2011), Abs# 31, 4th Annual Symposium of Cancer Therapy & Research Center (CTRC), San Antonio, Texas, USA. 
  Mandal CC, Borgfeld N and Ghosh-Choudhury N, Omega-3 Fatty Acids Targets miR-21 to Differentially Regulate Expressions of the Tumor Suppressor Protein PTEN and the Prometastatic CSF-1 in Human Breast Cancer Cells (8th April, 2011), 3rd Annual Terry Mikiten, Ph.D. Graduate Student Research Forum, UTHSCSA, San Antonio, Texas, USA.  
  Mandal CC, Ghosh-Choudhury T, Ghosh-Choudhury G and Ghosh-Choudhury N, Fish Oil Intercepts CSF-1 Expression by Breast Cancer Cells to block Osteolytic Metastasis (3rdNovember, 2010),. Abs# 3, 3rd Annual Symposium of Cancer Therapy & Research Center (CTRC), San Antonio, Texas, USA, 2010. [2nd Place Winner] 
  Mandal CC, Choudhury GG, Yoneda T and Ghosh-Choudhury N, Omega-3 Fatty Acids Block  miR-21 and miR-214 to Target PTEN Expression and Prevent Breast Cancer Bone Metastasis (5th May, 2010),. 2nd Annual Terry Mikiten, Ph.D. Graduate Student Research Forum, UTHSCSA, San Antonio, Texas, USA 
Organized
Organizing Committee Member,  43rd Annual Meeting of The International Society  Of Oncology and Biomarkers (ISOB), Sept, 2016, Chicago, USA    
Organizing Secretary, International Conference of Molecular Basis of Diseases and Therapeutics (ICMBDT 2019), Central University of Rajasthan, March 8-10, 2019